La bonne cuisine, notre passion, votre plaisir.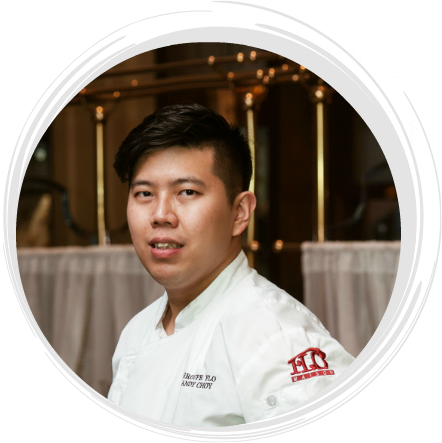 Andy Choy – Executive Chef of Groupe FLO Asia
Executive Chef Andy CHOY's dream of becoming "a successful celebrity Chef" was inspired by his role model Gordon RAMSAY. Andy joined Groupe FLO in 2000, which helped him continue his culinary development by sponsoring the Chef for training at Michelin restaurant "Le Pont de l'Ouysse" in Périgord, during which time he had the honor of working alongside Chef Daniel CHAMBON. Chef Daniel has also been rewarded by three toques in the Gault et Millau guide in 1995, who recognized him as one of the twelve "Great Chefs of Tomorrow".

Victor Yu – Chef of F Bistronome
With his years of experience at Le Cordon Bleu and top-end Parisian restaurants – brings his own unique twists and individual insights to revisit classical French cuisine. Because many world food elements have become incorporated into the daily French diet, Chef Victor has worked these authentic features of modern French cookery into FB's menu.